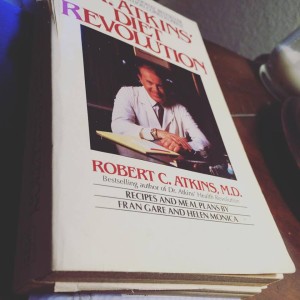 Waiting for your book to arrive from amazon, the library or your friend?
Here's the skinny on his biologically zero carb (meaning less than 20 *total carb) way of eating to get you started from the book that began it all, (Atkins, 1972, pp. 136-138).
I have shifted lists around for ease of use where they seemed to make better sense, but the foods he mentions have not changed or altered.
To print to PDF or a printer, tap the print friendly button below. You can delete these preceding paragraphs and toggle the text size to 90% in the print-friendly software to keep this list to a page.
MEAT
Steaks • Corned beef • Lamb chops • Hamburger • Bacon • Any kind of meat in any quantity–except meat with fillers such as hot dogs, meatballs, most packaged "cold cuts"
EGGS
Boiled • Fried • Scrambled • Poached • Omelet • Any style and with no limitations
FISH
All fish, including: Canned salmon • Tuna • Any kind of seafood including oil-packed and smoked, except oysters, mussels, clams, scallops and pickled fish.
FOWL
Duckling • Turkey • Chicken • Anything with wings • No stuffing
CHEESE
Four ounces a day of any hard, aged cheese. No cream cheese or cheese spreads.
SALADS
Two small green salads a day (each less than one cupful loosely packed) from: Celery • Chicory • Chinese Cabbage • Chives • Cucumber • Endive • Escarole • Fennel •
Lettuce • Olives (Green or Black) • Onions • Pickles (Sour or Dill) • Parsley • Peppers • Radishes • Scallions • Watercress
CONDIMENTS
Salt • Pepper • Mustard • Horseradish • Vinegar • Vanilla and other extracts • Artificial Sweeteners • Any dry powdered spice that contains no sugar
Salad Dressings with vinegar, oil, salt, dry spices, herbs, grated cheese, or anchovies.
FATS (BUTTER & MAYONNAISE)
Butter • Margarine • Oils • Shortening • Lard • Mayonnaise
(Fats have no carbohydrates.)
HEAVY CREAM
Four teaspoons a day. (Cream has less carbohydrate than milk–so don't use milk.)
DRINKS
Water • Mineral water • Vichy • Club soda • Beef or chicken broth • Bouillon • Sugar-free diet soda • Coffee • Tea • Decaffeinated coffee. Special note on caffeine and Diet Coke…should be limited to six servings (cups) per day. If….low blood sugar…limit it to three.
JUICE
Juice of one lemon or lime
NOTES
* Unlike later versions of Atkins, which subtracts fiber or sugar alcohols from the total carbohydrate counts, Atkins 1972 counts total carbohydrates, with no omissions for fiber or sugar alcohols. For a more modern take on this diet, you can look at the likes of the carnivore diet which follows the same principles but designed with weight lifters in mind.
Atkins, R. (1972). The revolutionary never-hungry no-limit steak-and-salad-plus diet. Dr. Atkins Diet Revolution. (pp. 136-138). New York: Bantam Books.