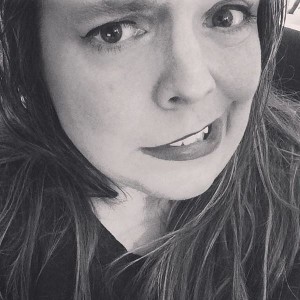 Oh! Oh! I know what you're thinking:
The world needs a fat, shlubby, snackhappy nerdygirl who's completely self aware talking about her weight loss issues and everything else happening in her world that she thinks is interesting enough to write about.
If that's the case it's your Birthday because shlart's* about to get very real up in here. making that hand gesture all around my face like Madonna vogueing, only notsomuch (*keeping it safe for work, yo).
That's right! The birch* is back, y'alls.

Spread the word, grab a seat and let's talk. I'm bringin' it like it's 2007 all over a-damn-gain.
For starters, that picture of me up there?
I have you to thank for that moment of jeggings happiness.
Sidebar: Actually, that's me making a funny face. When I originally wrote this post, I chose an image that was in another post on this site already. Sooo, while the picture has nothing to do with the whole pants thing, it makes me laugh so it stays. In fact, it makes me look a little like I wish I still fit into those jeggings–which I do (wish that is). It really makes me look like I'm suffering from constipation, which is even better. But more on that later (the pants, not constipation). Wow. My sidebars are almost entire posts.
That's right. All my readers, fans and friends of Your Lighter Side over the years when I owned the site were no small part of my motivation factor for weight loss.
It's hard to lose weight in a vacuum (I mean, there's no room in a vacuum for a kitchen, anyway). When I'm talking about it, something magical happens: I give a crap, for starters. Why? Because I know it's not just me doing this, it's all of us wanting to be a little healthier and a little bit less schlubby.
Don't we all feel the same way?
But it takes a village to work toward giving a crap. It takes a collective of amazing, unique people working together to give real support and not be afraid to tell a chick to put down the doughnut and back away slowly (unless it's a really amazing doughnut–then we split it).
It also takes a group to pull it together and want more for ourselves. Sometimes it's not just enough that you want something; knowing others want it for you, too? Damned magical.
Would you run a 5k without the throngs of people around you working toward the same goal? Do hot yoga if yours was the only butt crack melting from within those LuluLemons? Bike down remote mountain passes knowing the only cougar you were likely to encounter wasn't wearing falsies and wanted to eat your face?
So what do you say, Let's be group magical. And not like woohoo, I'm magical, but like unicorns splarted glitter out of its behind at 600 mph magical. That, my friends, is explosive magic. It's the magic born from dreams, hopes for something better and, at least in this case, unicorn rectal emulsions.
Because that, my friends, is where it gets real.