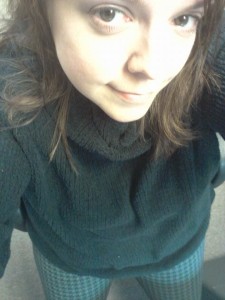 Hi there! This is me. I have lost 125 pounds to date.
I still have a heck of a lot more to go, but it feels so amazing to not have to worry about things like waking up with a sore back or twisting my ankle due to excessive weight.
I can work at my desk for hours with no problems, and I get buggy now, which is nice since I have the energy to be physically antsy.
I can even sit in the back seat of a car and I fit into the seat belt, which, as many of us who have lost a lot or who have a lot left to go (keep working at it!), that's a major accomplishment!
Of course, losing weight isn't easy, but it's great having a job because I'm out of the house and focused on things other than just food. As well, ever since I ditched my perfectionist leanings, even when I stall, I still keep going because I love the way I feel.
When I work from home, I tend to snack more. When I have to go into work, I have to cook before I leave the house, but it ensures I have something enjoy later for lunch. I pack bento these days and have three boxes! And I have to say I much prefer going into the office, not just because it's helping me lose weight but just because it makes my job a lot easier. I know a lot of people would disagree with this, especially those younger employees who love working in the comfort of their own home. I suppose it suits some people. As long as people have a good internet connection, such as one of these midco internet plans, they should be able to work from home with few problems. I, personally, prefer being in the office, but I can see why some people prefer being at home.
I mean when I go to the office, I can store documents in the confidential filing cabinets with ease, and can take them out when I need to. I can't do that at home. But then some days I don't even need these documents and I can just work with ease. It really just depends on what needs doing. But at least the good news is, I'm losing weight!
I'll share pictures of those soon, along with more pictures of my cubicle (I told you I was going to share fluffy stuff)….
I love working because it's always something new and exciting every day, and I get to exercise my creative self (even if my physical self laughs at the prospect of doing anything that breaks an actual sweat). Maybe I'll share some of what I'm working on eventually! But only if you're interested.