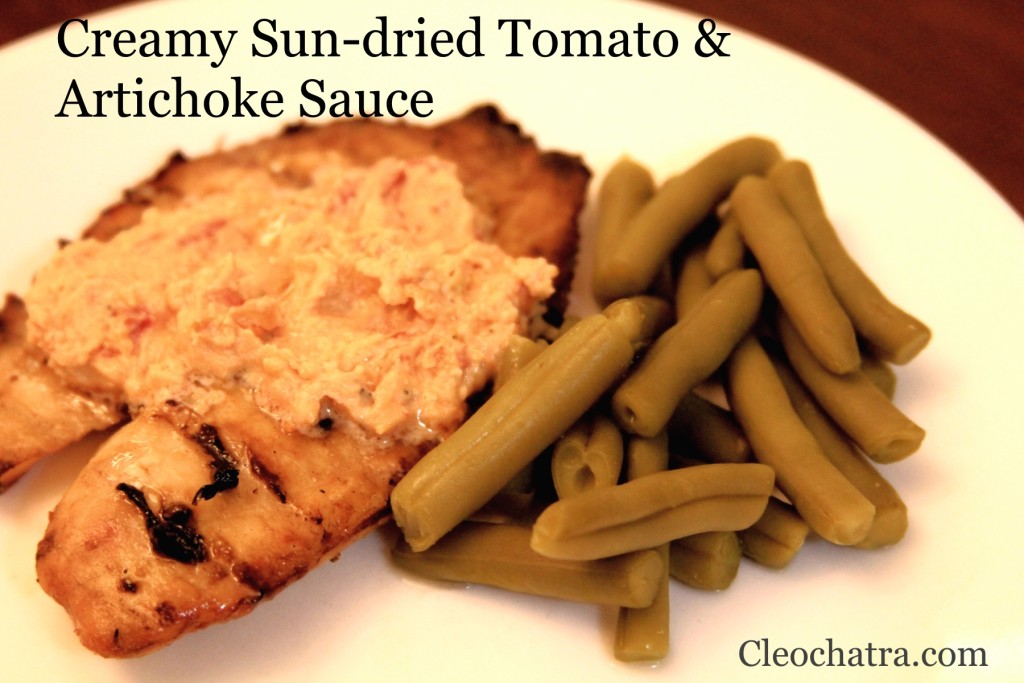 Simplification is a beautiful thing. Most recipes shared here will contain decidedly less filler comment and get right at the meat of things (bwah! Pun). Nutritional information is tabulated in MyFitnessPal, and, when possible, recipes are kept to as few ingredients and processes as possible.
As an aside, excuse the grainy quality of this picture. I need to download Photoshop, since it's apparent I'm no good on my own when I'm not shooting in indirect sunlight.
Now let's talk tilapia. While we've taken to smoking much of our meats on our pellet grill, there's still something typically lacking in presentation and flavor from the fish and chicken side of things.
Try this easy, five-ingredient sauce recipe, based on a this copycat Outback Steakhouse rendition, and you'll find it's also pretty terrific on your gluten-free pasta and spaghetti squash. In fact, it's a family favorite. Now the only thing better than catching a fish is getting it sauced (see what I did there?)

 Creamy Artichoke and Sun-dried Tomato Sauce
This quick and simple delicious cream sauce adds szchwing to chicken, fish and veggies. based on this recipe.  
Ingredients:
1/2 cup sun-dried tomatoes
1 cup artichoke hearts
1 tablespoon True Lemon Crystallized Lemon & Cracked Pepper
1/4 pound (1 stick) salted butter
1 cup heavy cream
Instructions:
1. Heat butter in a small saucepan over medium heat.
2. Add the sun-dried tomatoes, artichoke hearts and garlic lemon pepper; saute for 3 minutes.
3. Add heavy cream; stir occasionally until the mixture has thickened slightly and is heated throughout, about 5 minutes.
4. Pour the liquid into a blender or use an immersion blender to create a smooth liquid.
5. Return the liquid to the pot, heating and stirring for 3-5 minutes.
6. Serve warm. Refrigerate remaining.
Tip: If the sauce overly thickens, heat it over low heat and add a tablespoon of water at a time until reaching the desired consistency.
Makes: 8 servings, 1/4 cup each
Nutritional information per serving: Calories: 233; Carbohydrates: 6 g; Fiber: 2 g; Net Carbohydrates: 4 g; Protein: 2 g ; Fat: 23 g; Sodium: 244 mg