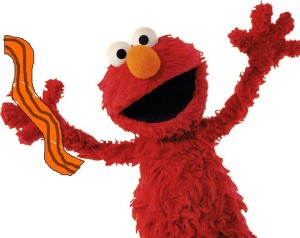 Before I caught my typo in the title, I'd written Nrrember. It's so cold, I'm even slurring my qwertywords. #idasnow #snowvember
For anyone wondering what I'm doing now (what's the horse feathers and shenanigans?):
I'm following Atkins 1972 (your weight loss plan is so old, Caesar owes it a buck) to get this weight back off I'd regained thanks to the move from Colorado to Idaho (and my lack of coping with the entire event). I plan to continue to goal (which is where I was headed before I fell into a bottomless vat of Gardetto's and regret).
I'm tracking what I'm eating every day because it not only helps me, but a lot of people have asked me to. Please note, this might look a little bit boring since I'm keeping things simple, especially these first two weeks.
Mayonnaise. Mayonnaise and bacon.
I'm keeping this running conversation thread action happening here. It's also at the tab at the top of the page titled "Weight Loss." Please feel free to jump in and let's hug this out. Preferably over bacon.
As per always, I'll be weighing in on Mondays. It keeps me especially honest on the weekends (and if anyone needs babysitting on the weekends, she'd be me. Hey; those extra dark chocolate chips and episodes of Arrow aren't going to watch and eat themselves).


I ate this:
Breakfast:
2 extra large scrambled eggs
1 Tbsp peanut oil
6 Tbsp Kroger cilantro salsa
1 cup of coffee with 6 drops of EZ-Sweetz (I know…too many!)
Lunch:
3 Vlasic kosher dill pickles
14 slices Hormel original pepperoni
3 cups of coffee, each with 3-4 drops of EZ-Sweetz (better…better, though now I'm starting to taste the coffee again)
1 20-ounce Diet Pepsi with Splenda
Dinner:
Smoked, grilled tilapia with sun-dried tomato and artichoke cream sauce recipe
1/2 cup De Monte cut green beans
Total Carbs: 15 total. Percentage of calories from fat: 73%
I did the hell out of this: Thanks to FitBit, I know I took 3,617 steps and walked 1.53 miles without putting much effort into it. Yeah, I'll work on that.
I've lost a lot of this: 57 pounds

I thought about this: CHEESE. Following Atkins 72 and counting all carbs is a shocker. Lessening the amount of cheese to almost nothing is insane. It's like a palette death wish. A real soul crusher. It's like imagining the WSU Cougs losing to the UW Huskies during the Apple Cup last week  (oh wait–that actually happened). Talk about a kick to the junk.
Any other cheese fans out there? How do you deal with cutting that action back? It's a little bit depressing, and a University of Michigan study even suggests cheese can be pretty wonderful.