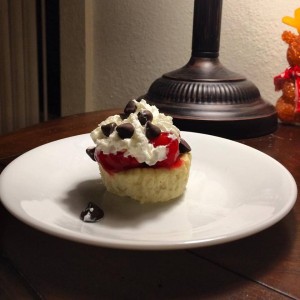 It's a funny thing, dairy. Just when you think you've got it licked, it's licked you.
Last night I whipped up amazing sugar-free, diabetic-friendly cheesecakes for some friends to give today since the hubster unit is headed out of the country for a business trip.  Because those delectable bites o'cheesecake goodness exist within my carb parameters (and it's been over a week since I started Atkins '72), I went ahead and tried a serving.
For the non-initiated, after a week of Atkins '72, so long as you show ketosis, adding in 3-5 (total) carbs per week promotes slow, steady progress toward your CCL (critical carb level, or the point you stop losing). I plan to fully stick to 20 total carbs, but I couldn't not have a little cheesecake. Right?
For only 13 total carbs (much fewer if I was counting net, but alas), I reveled in bliss, with just a few dark chocolate chips and three no-sugar-added pie cherries. Talk about resplendent! See, I've gone all polysllabic latinate on this cheesecake topic's butt!
I'll see how I'm doing later today since obviously these contain dairy. After spending most of the night feeling incredibly lousy, I'm not keen to relive that again anytime soon.


Tuesday I ate this: 
Breakfast:
Diet Pepsi
Fletcher's Bacon (1 slice)!
Spicy pork rinds
Lunch:
Mini cheesecake
3 no-sugar-added pie cherries
8 dark chocolate chips
2 Tbsp whipped, canned cream
Snacks:
Dream Creamy Chicken (polished off the leftovers)
1 Tbsp virgin coconut oil (so good I enjoyed it from the spoon)
Dinner:
Egg drop soup (Brand of chicken broth matters; the stuff I had tonight was horrible)
Total Carbs: 16 total. Percentage of calories from fat: 78%
I did the hell out of this: I took 2,039 steps for .86 miles.

A recap:
I'm following Atkins 1972 to get this weight back off I'd regained thanks to the move (and my lack of coping). #gardettosandregret
I'm tracking every day because it helps (and others have asked me to). Accountability; it's what's for dinner.
Keep track of the progress here, in the tab titled "Weight Loss" and feel free to jump in and join the convo.
I weigh in on Mondays. It keeps me especially honest on weekends (and if anyone needs babysitting on the weekends, she'd be me. Hey; those extra dark chocolate chips, whipping cream and episodes of Arrow aren't going to eat and watch themselves).