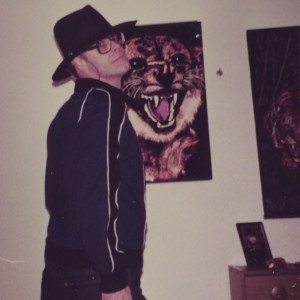 "Here. Pee on this stick."
I thought my dad was nuts, waving the plastic at me as I strode toward the bathroom. His next sentiment confirmed this. "And then see what color it turns!"
It was 1984, and my dad was Harvey Saal, a former Green Beret (MAC V SOG), author, decorated Master Sergeant and future respected historian.
That's right; he was bad-ass. But he was also known for his humor and irreverence. No doubt he was getting a kick out of the incredulous look on my face as he thrust the bottle of Keto-Stix into my hand.
A semi-recent, freak training accident in Germany led to his career ending broken back. That broken back curried months of forced bed rest and excruciating recovery. While still stationed in Germany, the former physically active, legendary Special Forces warrior had packed on almost 80 pounds, no small amount for a man formerly lean and wiry for his 5'10" frame.
In 1983, a German doctor, noting his condition and inability to exercise as he once had, introduced him to what would be a pivotal dietary lifestyle change for our entire family.
Also in 1983–in what could be perhaps considered a constitutional moment (though also a tragedy)–my young mother suddenly passed away due to an extremely unfortunate accident concerning black ice and a semi truck. It was just before Christmas. Due to this and to his injuries, my father retired from the military and returned home to the States. I was 13 years old then. My sister was 11.
Introducing us to the Atkins plan was, for a while, something different and exotic, especially having come from the recommendations of a stout, German doctor with a deliciously thick accent. A distraction really, from the painful loss of a loved one and the return of a father we didn't see but every few years due to his rigorous military training.
Now, my dad, the former war hero with a lauded sense of mischief and humor, showed enthusiasm about plastic sticks people apparently urinated on to watch the colors change. On purpose. And it was "cool." He tended to pull our legs for a laugh or wove an intricate story to keep us entertained. I know; I believed in leprechauns until I was at least 10 years old.

Today I ate this:
Breakfast:
Diet Pepsi w/Splenda
(I was still full from last night's late dinner)
Lunch:
Sauteed chicken with Artichoke heart/sun-dried tomato sauce*
1/2 teaspoon red pepper flakes
1/2 tablespoon grated, aged, Parmesan cheese
Dinner:
Sauteed chicken with Artichoke heart/sun-dried tomato sauce*
1/2 teaspoon red pepper flakes
1/2 tablespoon grated, aged, Parmesan cheese

*I have since realized this sauce is not phase 1 friendly for '72 Atkins due to the tomatoes and artichoke hearts. I'm monitoring nutritional values and using it anyway since I already made it.
Total Carbs: 14 total. Percentage of calories from fat: 70%
I did the hell out of this: Thanks to FitBit, I know I took 1,727 steps and walked .73 miles without putting much effort into it. I definitely need to make an effort. Maybe jog a lap through the house on the way to the bathroom.

A recap:
I'm following Atkins 1972 to get this weight back off I'd regained thanks to the move (and my lack of coping). #gardettosandregret
I'm tracking every day because it helps (and others have asked me to). Accountability; it's what's for dinner.
Keep track of the progress here, in the tab titled "Weight Loss" and feel free to jump in and join the convo.
I weigh in on Mondays. It keeps me especially honest on weekends (and if anyone needs babysitting on the weekends, she'd be me. Hey; those extra dark chocolate chips, whipping cream and episodes of Arrow aren't going to eat and watch themselves).