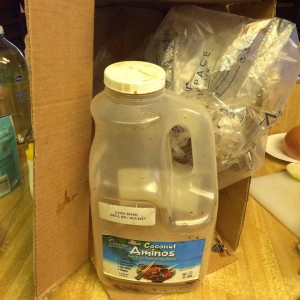 Look what arrived on my doorstep today! A sticky, empty box. I've already reached out to Amazon and they're refunding my money.
Talk about a coconut bummer! I want to make some jerky marinade. #hankering #withdrawals
So it's been a week and I've lost 11 pounds! I'm pretty stoked. Obviously, some of that was water weight, but the ketosticks are showing moderate to dark, which is fine with me.
Speaking to ketosticks, they can show false positives (meaning they share dietary fat slough and not always simple lipolysis) and false negatives (meaning ketosis at such a minimal level it won't register), but I want to use them up.
Double your ketosticks: Cut them in half, lengthwise, starting at the pad.


Monday I ate this: 
Breakfast:
1 serving spicy pork rinds
Diet Pepsi
1 cup coffee with 2 drops of EZ-Sweetz + 1 tsp butter
Lunch:
1 cup coffee with 2 drops of EZ-Sweetz + 1 tsp butter
Shrimp scampi with garlic sauce
Snacks:
2 cups of coffee with 2 drops of EZ-Sweetz + 1 tsp butter
Dinner:
Creamy herb chicken
Total Carbs: 3 total. Percentage of calories from fat: 73%
I did the hell out of this: Fitbit shows I walked 5,555 steps (truth) and  2.35 miles today!

A recap:
I'm following Atkins 1972 to get this weight back off I'd regained thanks to the move (and my lack of coping). #gardettosandregret
I'm tracking every day because it helps (and others have asked me to). Accountability; it's what's for dinner.
Keep track of the progress here, in the tab titled "Weight Loss" and feel free to jump in and join the convo.
I weigh in on Mondays. It keeps me especially honest on weekends (and if anyone needs babysitting on the weekends, she'd be me. Hey; those extra dark chocolate chips, whipping cream and episodes of Arrow aren't going to eat and watch themselves).